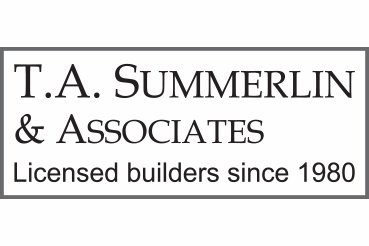 TA Summerlin & Associates
Building Contractor – T.A. Summerlin & Associates
T.A. Summerlin & Associates is the My Local Pros preferred licensed builder and contractor. With nearly 40 years in business, T.A. Summerlin & Associates has built a loyal following by providing reliable and honest service, with an incredible eye for quality. From planning to execution, owner Tom Summerlin and his licensed and insured team of expert craftsmen are exceptional at designing solutions to meet your unique needs. As a family owned and operated business, T.A. Summerlin & Associates works tirelessly to make their customers building and construction projects come to life. Their dedication to quality craftsmanship and affordable pricing make them a commodity for any home or business project their customers can imagine.
Contact them today for a free quote on your home or business building and construction projects. Learn more about T.A. Summerlin & Associates below.
---
T.A. Summerlin & Associates Building and Construction Services
Since 1980, T.A. Summerlin and Associates has provided high quality craftmanship for commercial and residential building needs throughout Southeast Michigan. We offer a variety of services- from new construction to renovations, planning to implementation. We can handle all of your building and handyman needs. Big or small projects, we will provide the best service with a friendly smile. Contact us today for a free quote to your project!
General Contracting, Project Management, Planning, and Implementation
General Contracting – You can count on us as your total general contractor from project planning to project completion. We have worked hard over our many years in business to build a strong team, earn our customer's trust, and deliver the best service in general contracting that money can buy. T.A. Summerlin & Associates will get the job done right the first time, and with no hassle or heartache for our clients.
Project Management – When you have been in business for nearly 40 years, you have the knowledge and experience to fully plan and implement even the most challenging of projects. That is what we can do for you. If you are looking for a solution to your building project, let us manage the project from start to finish to make sure every "i" is dotted and "t" is crossed! We can manage your specialists and keep the project on time and on budget.
Plan Development – One of our favorite things to do is solve problems. When one of our clients presents a unique challenge, nothing is more satisfying that planning a unique solution. We can prepare timelines, budgets, and identify the specialists who can complete the plans with reliability and excellence.
New Construction – We love new construction projects. Starting from scratch and building our customers dreams is as fulfilling to us as it is to them. We can design and build garages, structures, rooms, and whole houses. You name it, we can build it.
Renovation Services – Looking for a new kitchen? How about that bathroom you have always wanted? Maybe a basement entertaining room? All of these are possible with our licensed and insured experts at the helm of your project. Our renovations are efficient and done with the highest quality products and expert craftmanship.
Out with the old and in with the renewed, contact T.A. Summerlin & Associates today and let's get building.
Contact T.A. Summerlin & Associates